Metal Fabrication Facility & Equipment
Advanced Vessel & Alloy has added quite a few pieces of the most technologically advanced equipment to our Valdosta, GA fabrication shop. Our specialized tools facilitate the age-old manufacturing process for tanks, pipe, structural steel and specialty fabrication.
Drills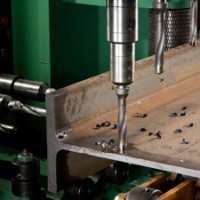 Peddinghaus has remained at the forefront in the structural steel fabrication industry and continues to offer the best the market has to offer in the BDL-1250/9D drill line. The Peddinghaus BDL 1250 is a nine-spindle drill capable of speed drilling on all 3 axes at over 1800 revolutions per minute. The drill line is also capable of scribing points of reference in order to facilitate layout and properly mark each piece. All of these features are controlled by compatible software, making the job faster, more efficient and more accurate, resulting in an unmatched quality.
Click here to watch a video of the BDL 1250/ 9D drill line.
Pipe Fabrication & Cutting Tools
[75]">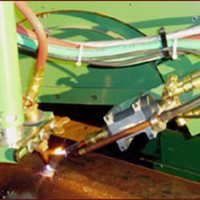 Vernon Pipe Technology is the leader in pipe prefabrication and cutting. Our Vernon MPM 5 axis cutting machine is fully automated and CNC controlled on 5 axes. The machine cuts, prepares and bevels the pipe all in one function. One person operates the machine as it quickly and accurately cuts each piece. Our pipe fabrication capability is unsurpassed — and we have yet to fully discover all the advantages this machine has to offer.
It has the ability to cut any length or size of pipe, ranging from 3 to 48 inches in diameter and virtually eliminates the costly layout time associated with pipe fabrication.
Click here to watch a video of the Vernon MPM 5 in action
Copers
The Ped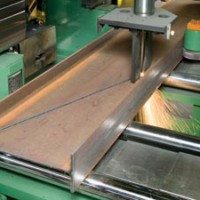 dinghaus ABCM 1250/3 structural burning system combines Peddinghaus Patented Roller Feed accuracy with a multi-torch thermal cutting system to provide an automated solution for complex structural burning and coping requirements. From typical burning processes such as flange bevels, copes, blocks, flange thinning, cut-off, up to challenging cuts as haunches, castellations, and beam splitting, the ABCM 1250/3 delivers production.
Click here to watch a video of the ABCM 1250/3 Coper.
Wide 1250 x 610 mm / 50 x 24 inch opening
Automated cutting routine
3 Torches
Automatic Web Torch Adjustment
Anglemaster
The Peddinghaus Anglemaster model AFPS-643/O combines multi-tool punching with a powerful single cut shear and part marking system. This latestevolution of the industry standard Anglemaster has proven to be the first choice of world class fabricators all over the globe fast, efficient, and reliable angle production.
Click here to watch a video on the AFPS-643/0 Anglemaster.
Process angle and flat stock up to 6 x 5/8 inch – 150 x 15 mm
Process Unlimited stock lengths
Automatically punch up to four hole diameters
SignoScript Carbide part marking or SignoMat hard stamping systems available
Plate Cutting, Beveling, and Drilling Tables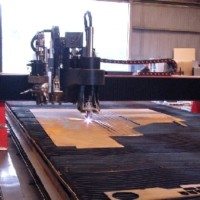 Our Kinetic cutting tables models 3000 and 4000 combine multiple gas heads with high speed tool changers which allow multiple cutting, drilling and finishing operations to all be carried out with the same machine. We no longer have to remove the plate from the burning table to be drilled, finished, tooled or piece marked. The Kinetic 3000 and 4000 both have plasma-cutting heads accurate to within a tenth of a millimeter and feature a full range of motion to allow for bevel cuts with angles of up to 45 degrees in all planes. This substantially reduces cost and time throughout the fabrication process, providing savings that can be passed along to our customers.
Click here to watch a video on Kinetic 3000 and 4000 cutting tables.
Welding systems
Our welding systems, which are an integral part of fabrication process both in the shop and in the field, have been greatly enhanced over time through the advent of new technologies. Advanced Vessel & Alloy has converted to digital square wave welding systems in lieu of the analog submerged arc systems of years past. Our new systems can provide the longitudinal and lateral welds on tanks, vessels, pipe and ductwork. The quality achieved by this new technology is unsurpassed in our industry.
Most of our welding in the shop and field is done through a process called pulse arc welding. This method simultaneously controls the arc length and heat input, making it possible to achieve a higher quality weld with less chance for error or failure. It also cuts the welding time in half which helps AVA provide another cost savings to our customers.
Click here to watch advantages for pulse welding.
Our pipe welding has been converted to surface tension welding or STT. STT welding produces low hydrogen output, making it easier to obtain a high quality root weld penetration and fusion of the base metals from one side. STT virtually eliminates poor side wall fusion and lack of penetration. We recently completed over 35,000 linear feet of pipe fabrication with diameters up to 36" with zero failures due to faulty welds. Most recently, we also became certified to weld both polypropylene (PP) and polyvinylidene difluoride (PVDF) pipe for an acid regeneration system requested by one of our valued customers.
Click here to watch STT welding in action.
In-house finishing department
Advanced Vessel & Alloy also houses its own finish department. Our fully equipped blast and paint facility offers a variety of prep, blast, paint, coatings and lining systems that are integral to several fabricated items within the industrial arena. Our personnel and our shop is also a designated test site for the International Paint systems. This designation keeps our materials free from defect, our equipment up to date and most importantly, our personnel properly trained to apply the various systems our customers specify.
Software
Advanced Vessel & Alloy also uses several key pieces of software in order to provide the most advanced and efficient design models for tanks, vessels, structural steel, concrete, piping, architecture and raw engineering. Our software programs include AutoCad, APV (Advanced Pressure Vessel), Tekla Structures, Autodesk Inventor, AutoCad Plant, Cadworks 3D, Navisworks Manage, Plate and Sheet Professional, Pronest 8, Primecut 3, AutoCad Structural Detailing, AutoCad Mechanical, AutoCad Architecture, Autodesk Robot Structural Analysis, Weldright Pro, and SDS/2.
A wide range of fabrication capabilities
At over 200,000 square feet of fabrication space with 100,000 dedicated to tanks and vessels and 100,000 dedicated to structural steel and pre-fab, Advanced Vessel & Alloy has the necessary space requirements to fulfill even the largest project requests. We continually invest in our people, equipment and support to ensure the highest quality in service and production. Our welders undergo continuing education and re-certification for a variety of alloys, plastics and carbon so we can ensure your final product will be unmatched in quality. We are proud of our team and will tailor to any need our customers may have.
Advanced Vessel & Alloy believes that to provide a superior end product to our customers, we must continually invest in cutting edge technology. By standing firm in this commitment, we will continue to maintain our position at the forefront of the fabrication industry.