Structural Steel Fabrication
With 100,000 feet of production facility dedicated to structural steel and piping fabrication, Advanced Vessel & Alloy is ready to fabricate structures of any size. Our talented team of designers and fabricators work with carbon or high-strength alloy steels, conventional stainless steels and most non-ferrous metals.
Our structural fabrication services include:
Framing components
Custom structural components for any industrial application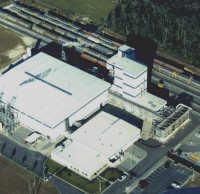 No matter your industry or application, you can count on AVA to provide top quality work and an efficient turnaround of your structural fabrication project. We invest in cutting edge fabrication technology to save you time and money, so your project can go ahead on schedule and under budget.
Advanced Vessel & Alloy is a full-service fabrication company, offering design, fabrication, finishing, delivery and erection of your structural components. Does your project call for protective coatings? Our on-site finishing department provides a variety of prep, blast, paints and protective coating services.
As an ASME code shop, AVA offers:
Section VIII Division I U stamp
Fabrication to AWS Standards and AISC standards
Structural fabrication services for industrial clients across the U.S.
Based in Valdosta, GA, Advanced Vessel & Alloy provides structural steel and metal fabrication for industrial customers across the entire country. Contact us today to begin work on your project.