Industrial Pipe Fabrication Services

Advanced Vessel & Alloy's custom fab services include material handling products and pipe fabrication. With 100,000 square feet of production facility dedicated to structural steel and piping, AVA is fully equipped to handle any large-scale pipe fabrication project.
Our cutting edge technology and highly trained design, fabrication and welding team allow us to fabricate any custom project your industry requires. Fabrication capabilities include carbon or high-strength alloy steels, conventional stainless steels and most non-ferrous metals.
AVA also has an on-site finishing department that offers paint, lining systems, protective coatings and other pipe finishing services.
Our material handling and pipe fabrication services include:
Piping
Custom piping for any industrial application
Superior pipe welding technology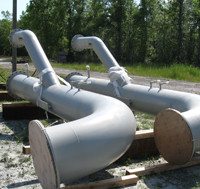 Our pipe welding has been converted to surface tension transfer (STT) welding. This method virtually eliminates problems caused by poor side wall fusion and lack of penetration. Through STT welding, AVA recently completed over 35,000 linear feet of pipe fabrication with diameters up to 36 inches and zero faulty welds.
Advanced Vessel & Alloy is also certified to weld both polypropylene (PP) and polyvinylidene difluoride (PVDF) pipe.
Pipe fabrication services for industrial clients across the U.S.
Based in Valdosta, GA, Advanced Vessel & Alloy is proud to provide pipe fabrication services and delivery for customers across the U.S.  Contact us today to begin your project.